At SurveyCTO, we understand that while the experience of learning a new tool can be exciting, it can also be overwhelming. Over the years, we have created a wide range of supporting material to help our users in their understanding of the platform. Still, we realize that most of you are trying to meet tight deadlines while you are exploring and learning how to design and conduct data collection projects, so it can be challenging to find your way around so much information.
If you are facing this challenge, you are not alone! In this article, we want to make sure that you can make the best use of our resources and find the answers to your questions more quickly.
Check out the table below. Depending on your needs and questions, you can find the relevant SurveyCTO resources in three different locations:
1. Product Documentation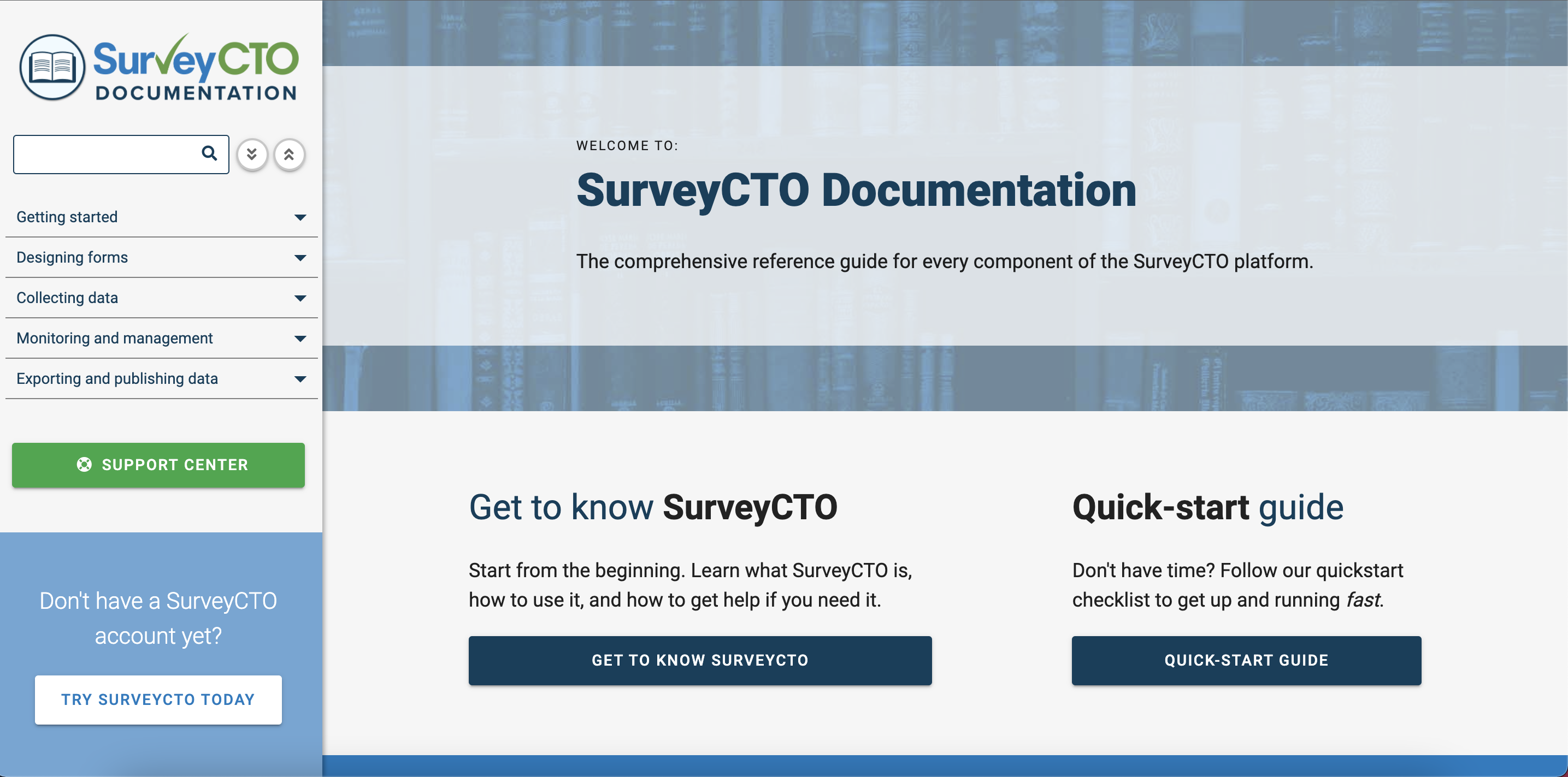 Product documentation is the digital encyclopedia of SurveyCTO. In other words, this is the comprehensive reference guide for every component of the platform and its features. For example, here you can learn how to design your first survey form, new SurveyCTO feature releases for all platforms, a comprehensive list of functions in order to personalize your survey forms for advanced data collection tasks, and more!
The product documentation site is also a gateway to SurveyCTO's other resources such as the support center, blog, and video library. Just scroll down on the landing page for their descriptions and direct access:

Link to Product documentation: https://docs.surveycto.com/
For easy access, make sure you add it to your web browser's bookmarks!
Otherwise, you can easily access the product documentation content from your SurveyCTO server console. Either click on the Documentation icon in the upper right corner, or click the Help icon whenever you see it to go directly to the relevant documentation for that specific feature: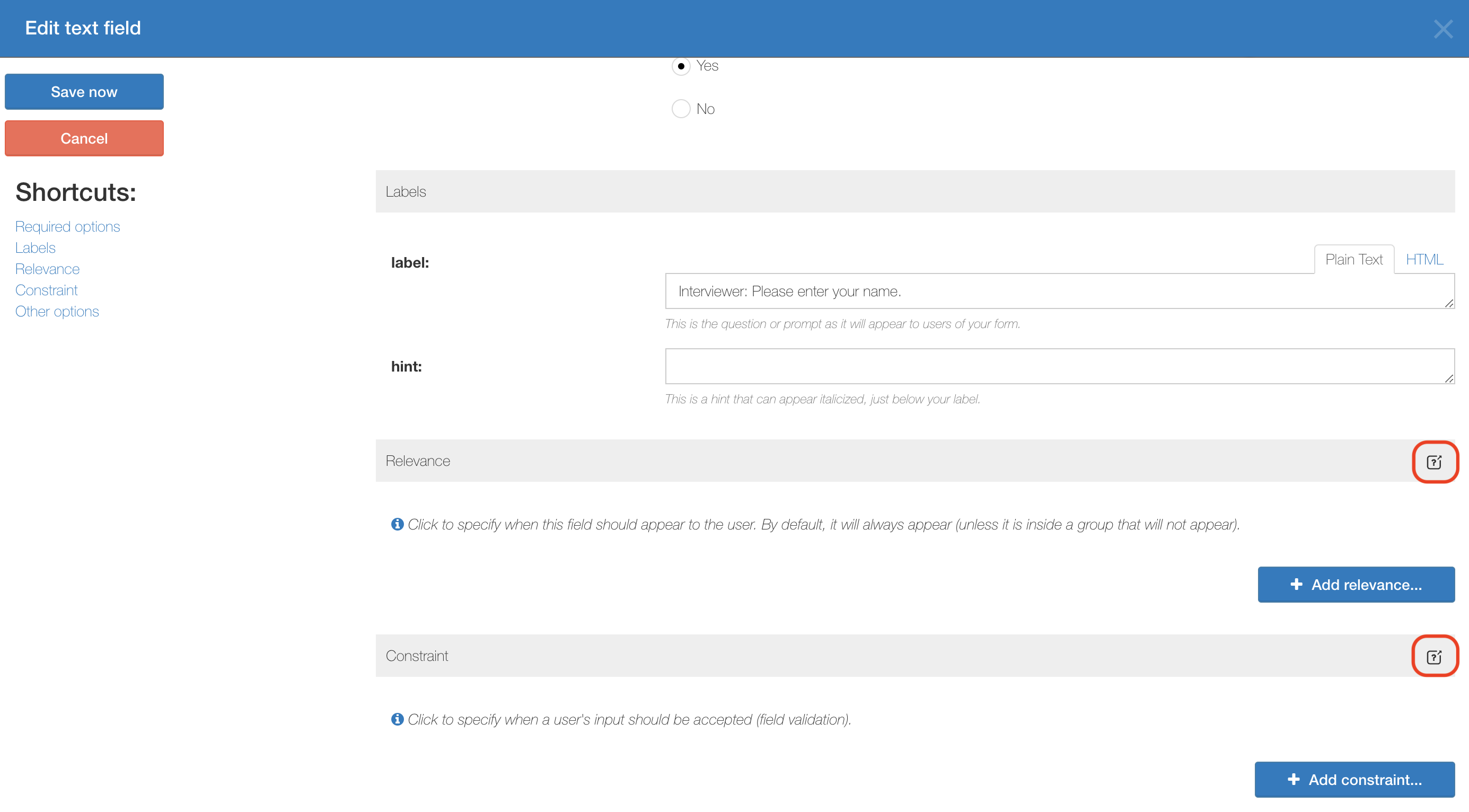 2. Support Center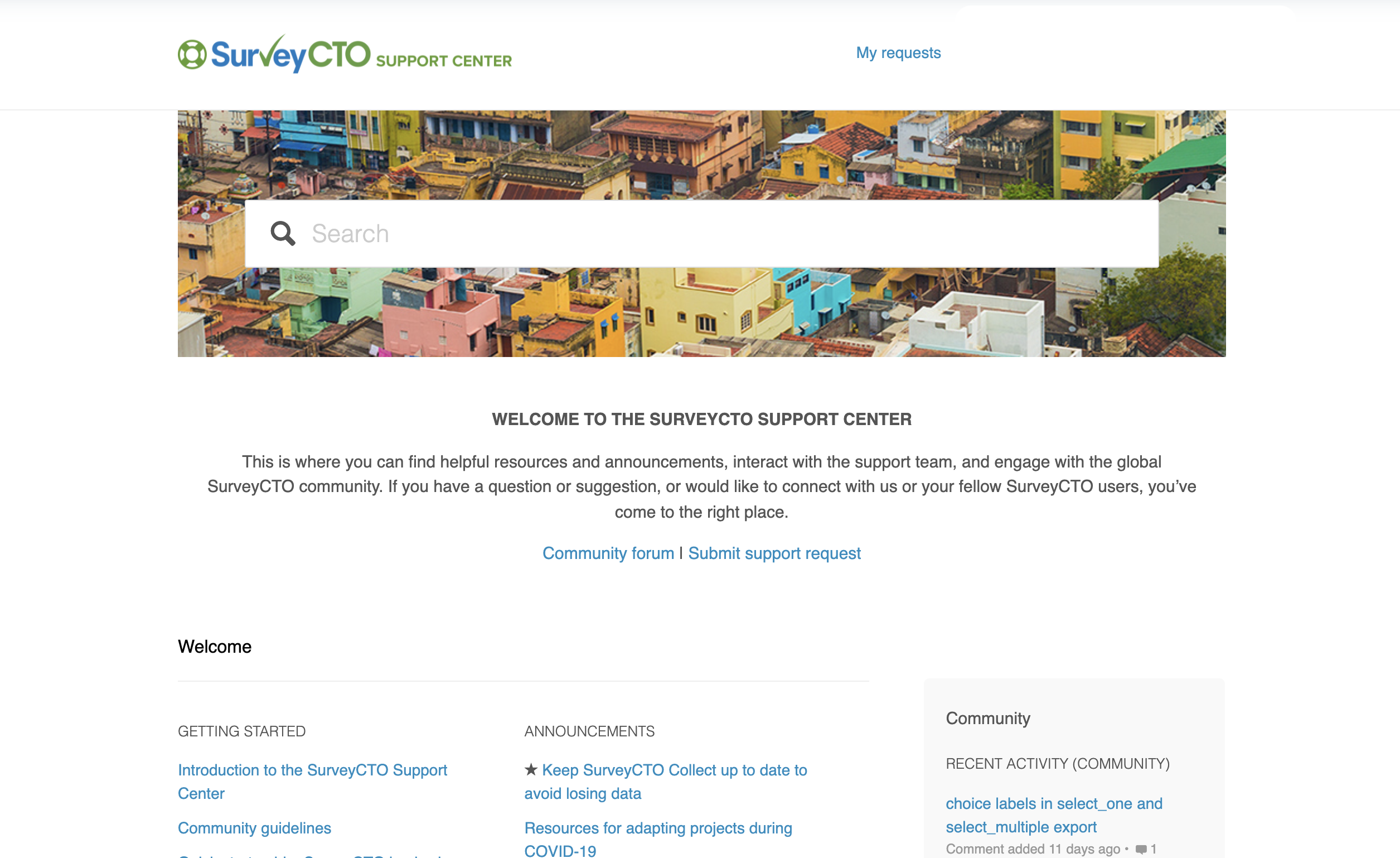 In the Support Center, you can find helpful technical resources such as reference materials, guides, tips and tricks, and troubleshooting guides. These materials are designed to complement the product documentation and provide you with holistic and practical guidance to effectively achieve your goals and solve problems while using SurveyCTO.
You can also easily access other resources such as product documentation and the SurveyCTO website at the bottom of the landing page.

If you're a trial or a paid subscriber, you can also get professional support from our expert team by submitting support requests. The support center also offers various opportunities to engage with the global SurveyCTO community through the forums where community users can ask for help, and everyone can vote for feature requests.
If you have a question or suggestion, or you would like to connect with us or your fellow SurveyCTO users, the support center is the place to go. Check out this article to learn how to get the most out of the support center.
Link to the Support Center: https://support.surveycto.com/
You can also access our support center from the SurveyCTO website (click on Help and then Support Center) or from the product documentation webpage.
3. SurveyCTO Website
Finally, the SurveyCTO website contains various supporting resources, such as the video library, blog, and FAQ.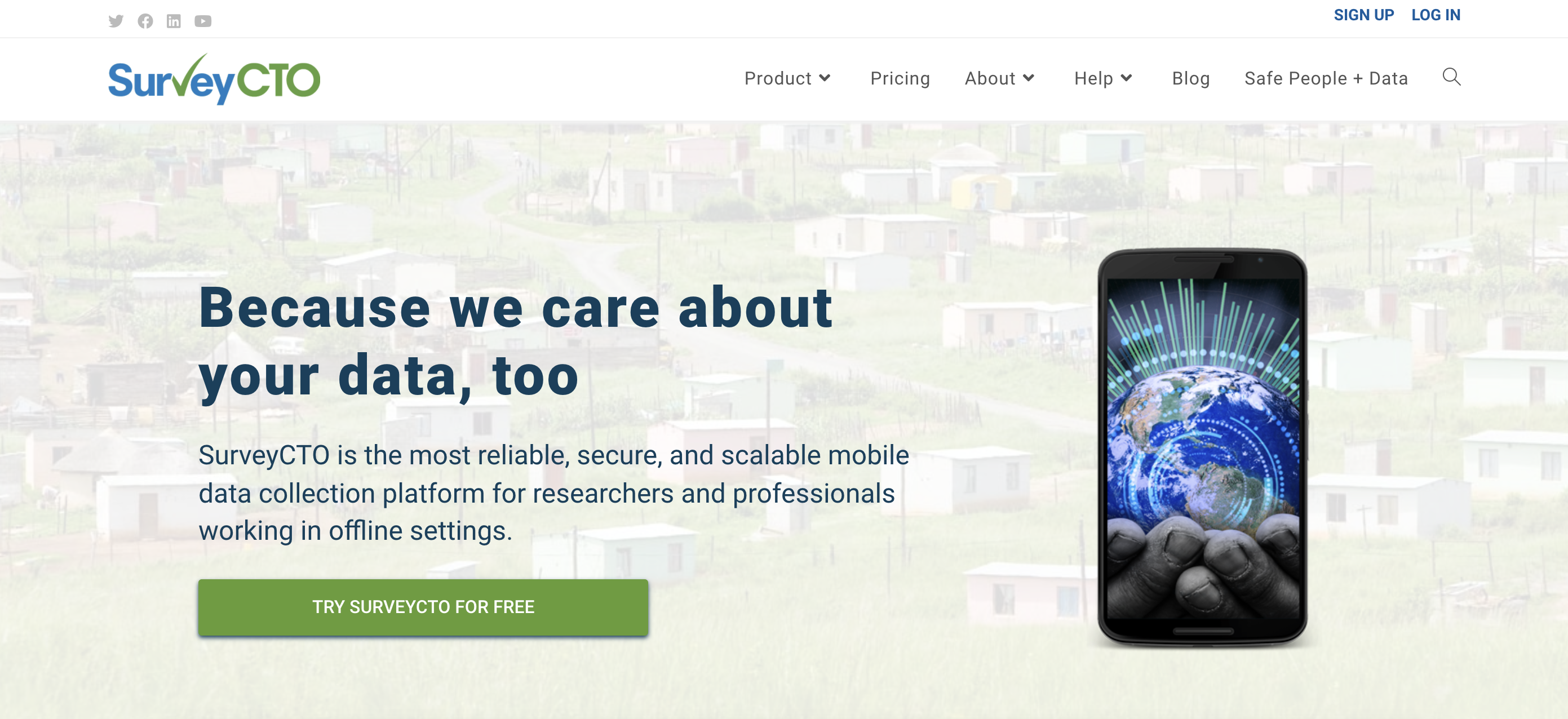 3.1. Video Library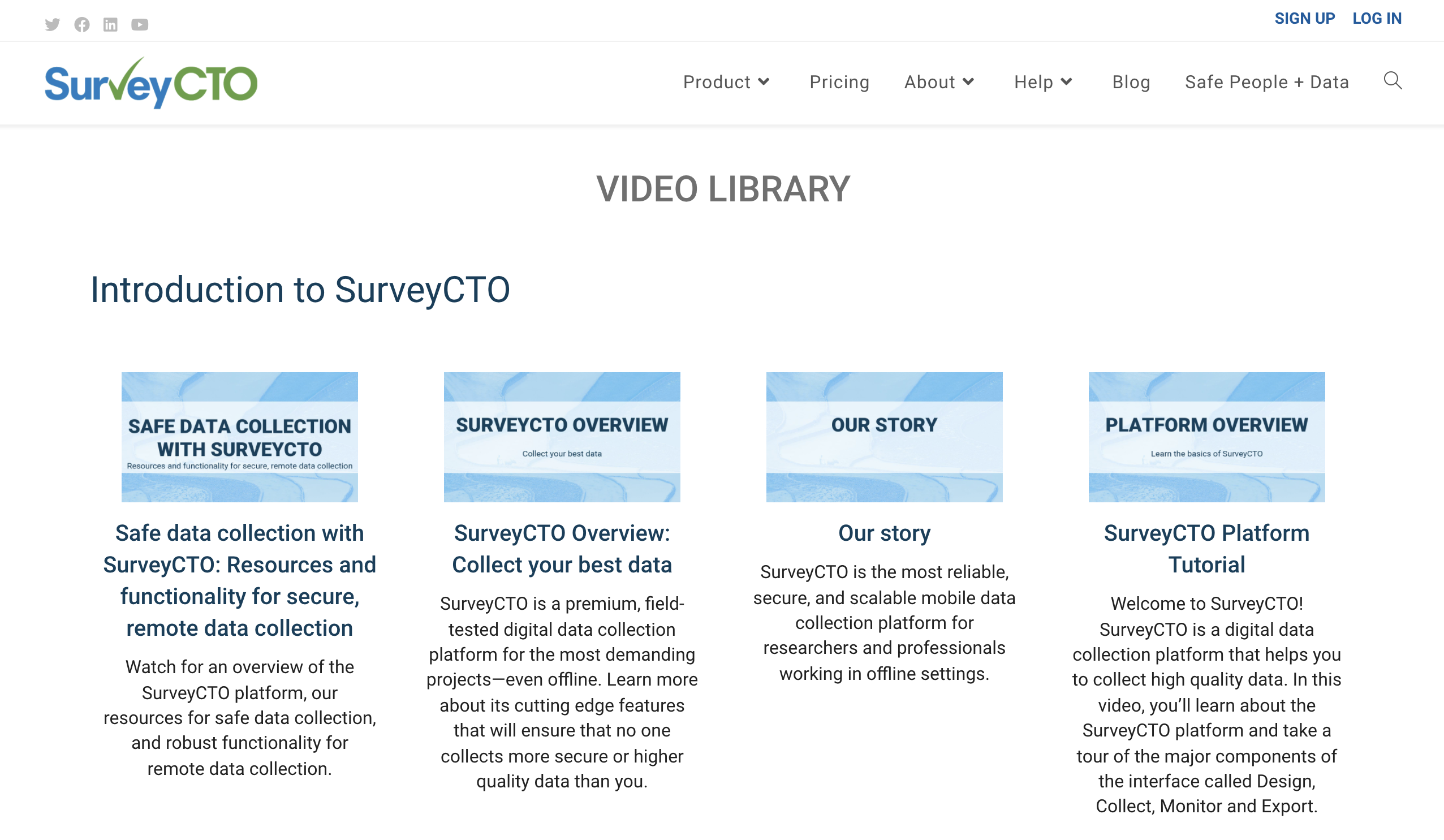 Our video library offers useful tutorials, feature overviews, and webinars with rich visual demonstrations that users can easily follow. For example, how-to videos offer visual and hands-on step-by-step guides on specific features/ topics that users can easily follow.
These videos are a good starting point if you would like to learn about new features or how to do certain tasks. They serve as great references and complementary materials to product document articles.
Link to the Video library: https://www.surveycto.com/support/video-library/
3.2. Blog
On the SurveyCTO blog, you can find a wide range of topics, including interviews and case studies of our users, so you can learn about real-life scenarios where SurveyCTO helped projects succeed.
Link to the video library: https://www.surveycto.com/blog/
3.3. Frequently asked questions (FAQs)
Check out our FAQs to learn more about subscription plans and how to manage SurveyCTO accounts, teams, and more.
Link to FAQs: https://www.surveycto.com/faqs/
Do you have thoughts on this support article? We'd love to hear them! Feel free to fill out this feedback form.